Walmart is the world's largest retailer, with its ecommerce marketplace alone representing one of the biggest sales channels for businesses selling in North America. For a lot of sellers, achieving profitable sales growth on Walmart.com is an important step toward driving long-term market share gains online, and developing less of a dependence on a single retailer. That's why today Teikametrics is announcing, alongside Walmart's launch of its advertising API, that we are now offering our customers the ability to optimize Sponsored Products campaigns on Walmart.com.
At Teikametrics, our mission is to continually help you, the seller, maximize your ecommerce profitability. On Amazon, we've proven that our approach centered on algorithmic optimization is the best way to achieve that goal for 1P or 3P merchants. Thousands of brands now use Teikametrics for their Amazon advertising, with our service and performance helping make us the #1 rated Online Marketplace Optimization Tool on G2Crowd – a track record we are now taking to Walmart.com.
Teikametrics is part of the first exclusive group of partners with access to Walmart's advertising API, having worked with the retailer extensively during the initial testing phases. During that time, Teikametrics drove great results on Walmart.com across a variety of customers participating in beta testing.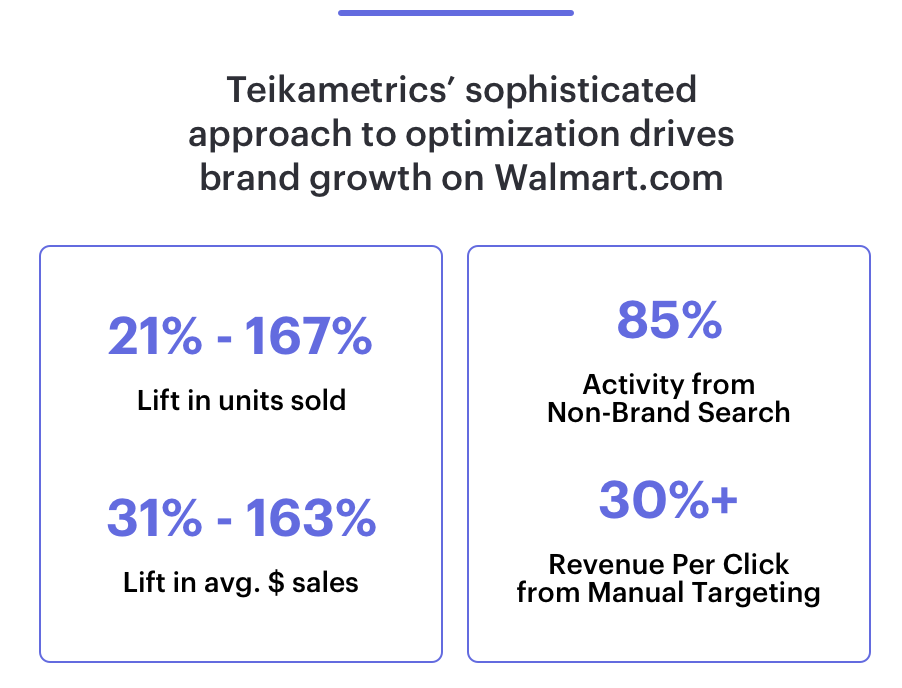 —–
Case Study Snippet: Razer USA
Razer is a long-time client of Teikametrics and one of the world's largest manufacturers of gaming-focused computer hardware. By using Teikametrics to optimize their Walmart Sponsored Products advertising activity, Razer maximized the Black Friday through Cyber Monday time period in 2019. With Razer products achieving premium placements at the top of the search page during this important, high-traffic period, weekly ad-derived sales on Walmart.com jumped by more than 10X, at an extremely low ACOS.
"We're excited to be on the front lines as Walmart's advertising platform continues to evolve, all the while working with Teikametrics to further test and scale our Sponsored Products advertising on the site in 2020 and beyond."
Read the full case study on Razer's success using Teikametrics for Walmart Sponsored Products